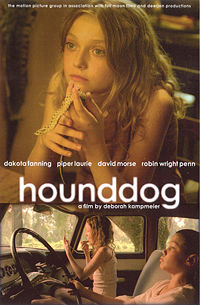 Hounddog
, the film "where Dakota Fanning gets raped," is definitely deserving of more press than its controversy. But how much I can't quite feel out.
In 1950s South, Lewellen (Fanning) plays a young girl who, poor enough not to wear shoes in nearly every scene, is obsessed with Elvis and sings his songs to forget her troubles. And troubles she has plenty. As things gradually get worse and her religious grandmother's reprimands seep into her head, her childish antics begin to haunt where they used to free her.
Co-starring Robin Wright Penn and Daivd Morse, the narrative is quite heavy and left me wondering exactly what the message was. Bad things happen to "sexually" curious and liberated young girls?
You need to suffer physical abuse and torment to properly sing the blues? Most men have the "evil snake" in them somewhere? (note: snakes are a heavily over-used motif - Biblical referent, yes; Freudian phallus symbol, yes)
Whether it is all or just one of these themes, the film ends on an unfortunately conservative, borderline regressive tone- the little red riding hood of our time, with race relations and white hegemony added in as a bonus.
These faults aside, director Deborah Kampmeier presents a beautifully shot film, full of rich yellows and greens and well paced, that depicts an interesting character study on a young girl who's forced to grow up in torturing ways. Fanning delivers an impressive performance, and while the narrative takes a bit of a nose dive towards the end, it has more to offer than the controversy leads on.
The film underwent a trial in North Carolina during shooting over the rape scene, which could have also attributed to the extreme delay in its theatrical release. Two years after filming and Dakota Fanning's numerous interviews on the subject, the film came out September 19th. But many of you may not have known it because AMC pulled it out of all its theaters due solely to the already infamous scene.
Plus side of this controversy, some people will see an independent film they may not have otherwise seen, which is always a good thing in my book. However, for me and those I went with, the knowledge of the scene coded our viewing experience. Clearly most people in the theater were waiting for the scene to occur, and each time a new male character appeared on screen, a tension came upon us all: is this the culprit? Thus, when the scene did occur, it was so anticipated that the horror of it was certainly subdued. Will the controversy then draw people to the theater but weaken their reception? Time will tell I suppose.
Those of you who have seen it, I would love to know what you think of the film's message and how the rape scene plays out to you in the context of the film as a whole.
BTW. Bryce discusses the film in his blog,
I'm Feeling so Blah
g
, and as he ponders, "the real question is what do we think of the dad?" Discuss.